John Majerus PT CLT
John obtained his degree in Biology from Loras College, Dubuque, where he also tore up the gridiron as a Duhawk. He did early work in genetics and ultimately followed with a P.T. degree from The University of Iowa in 1985. After establishing a thriving private practice in rural Iowa over his first decade as a therapist, he held a clinical faculty position in the doctorate program at Creighton University for 3 years. In his over 30 years of practice, he has earned additional certifications, including the Board Certification as an APTA Orthopedic Specialist, Certified Lymphedema Therapist, and more recently a TPI Golf Certification. During his 9 year tenure managing Rebound Rehabilitation,  he was active in building the programs which garnered much recognition. The professional interests he finds most engaging are foot and ankle dysfunction, patellar pain, the relationship between the hip and lumbar spine, and post-traumatic cervical spine dysfunction. When off work, he enjoys golf, watching football, cycling, and spending time with his wife, 5 children and 3 grandchildren.
Jodie Paschall-Majerus MPT CLT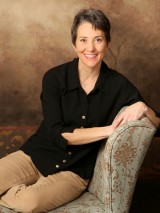 Jodie attended The University of Iowa for both her Exercise Science (BS '89) and Physical Therapy degrees (MPT '92). At the UI, she combined her love of competitive swimming and research in projects with both the Biomechanics and Physical Therapy Departments. After graduation, she spent 4 years working in a small town hospital setting in Southern Oregon, gaining a variety of experience. In 2000, she became one of the first therapists in the area to complete advanced training in edema management and has actively treated swelling disorders and wounds since that time. She expanded her practice to treatment of Pelvic Floor Dysfunction, has training in the McKenzie Method, and an interest in Pilates. Jodie gave back to the profession through involvement in the APTA, both on state and national levels, on continuing education and legislative committees. Her personal interests include photography, cooking, and travel; the time that used to be dedicated to community theatre and master gardener training is now spent with her husband, children, chickens, and dog.
Tara Socquet MSPT ATC
Tara returns to her native Vancouver with degrees from both near ('96 BS Zoology, UW, Dean's List) and far (00' PT, Duke University, Sports Medicine Internship). She had the opportunity to work extensively with track, water polo, and cross country athletes at Stanford University, which proved a rich experience, both as a therapist and an avid runner herself. Having gained additional expertise with Olympic and professional athletes, she appreciates the complexity involved in treating high level athletes. Her ongoing professional interests include overuse injuries in running and throwing athletes, preventing and rehabilitating athletic injuries across the lifespan, and post operative shoulder, knee and hip rehabilitation. Additionally, Tara has worked with the Clark College Athletic Department to provide medical coverage for some of their sporting events. She and her husband share an appreciation for good food and the outdoors, and are kept on track with a busy household with active kids and pets, running events, and exploring the Pacific Northwest.

David Gofreed DPT CLT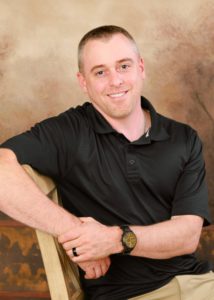 Dave arrived from Baltimore in 2004 and all indications are that he's gotten hooked by the Upper Left.  Of our staff, he wins the contest for having the most varied background of all.  He completed a BFA from Maryland Institute College of Art in Illustration in 1999, then changed course in 2009 to research origins of life genetics at Portland State University for 5 years.  He graduated Summa Cum Laude from PSU in 2012 with a BS in Science including a minor in Biology.  His interests in physiological processes in healing as well as the mind/body connection were pursued further in Physical Therapy school at USC where he earned his DPT in 2017.  His special talents outside the clinic include Jazz and Blues harmonica; inside the clinic he gravitates toward movement, balance, and vestibular disorders.  Dave has also flourished as a Lymphedema therapist, bringing thoughtful attention to our swelling patients.  He lives in Portland with his wife; they enjoy many outdoor pursuits the PNW has to offer, especially, hiking, fishing and canoeing.
Mai Fee PT CLT
Our very own Hawaiian import, Mai was raised on O'ahu and brings the infectious spirit of the islands to our therapy Ohana.  Paddling on the outrigger canoe team in high school gave her a lifelong ability to both pull together and to enjoy the great outdoors, now Pacific Northwest style.  Mai graduated from the University of South Alabama in 1997 with her BSPT degree and is currently working toward earning her Doctorate from St. Scholastica.  Bringing her dedication to continuing learning and manual therapy skills together, she obtained the prestigious Kaiser Hayward Orthopedic Manual Therapy Residency certificate in 2006.  Mai also brings her extensive experience as a Lymphedema therapist to the table; she earned dual CLT certifications from the Academy of Lymphatic Studies in 2001 and from Klose Training in 2018. In joining us at the clinic, Mai, with her ready smile,  is able to finally bring both passions together in one place.  She and her family relocated from Hillsboro in 2019 and they are excited to continue hiking, biking, gardening, and being active in the community we call the 'Couve. 
Jennifer Sellers DPT CLT
An import originally from St. Louis, MO, Jen, her husband, and two dogs made their foray into the Pacific Northwest in 2015. During her time at Mizzou, while completing her BS and DPT degrees, she also pursued her longtime passion of competitive swimming and coaching.  After graduating with her Doctorate, Jen gained valuable experience in a variety of settings – from hospital inpatient care to multidisciplinary teamwork in a rehabilitation facility to community based home health care.   The ensuing years provided Jen with more ways to make the most of her interactions with patients and families and a special appreciation for the geriatric population.  Along the way, she has pursued additional training in the McKenzie Method, Kinesiotaping, and IASTM; she Became a Certified Lymphedema Therapist in 2017. An additional endeavor in her free-time has been running in half marathons, of which Jen has completed four.   She and her husband will welcome their first child soon!
Melanie Embree PT OCS CSCS
Melanie wins the prize for being the therapist at Majerus and Co. who comes from furthest away, having grown up in CT.  From there, her family moved to GA where she ultimately obtained a degree in PT from Georgia Health Sciences University in Augusta in 1992 .  Melanie fell firmly in love with the PNW, both Southwest WA and Central OR, during the last two decades.  Her professional drive has always led her to excel in manual therapy, resulting in her obtaining the designation of Orthopedic Clinical Specialist in 2009 and Certified Strength and Conditioning Coach in 2011.  Melanie's true passion revolves around patients with upper extremity and spine issues; high level shoulder and elbow athletes, overhead and repetitive workers, and those with scapulohumeral dyskinesia.  Her approach incorporates a true holistic approach and a drive to optimize the abilities and promote long term success in her patients.  Mel has two grown kids in college, two German Shepherds, and too little time to do all the traveling she would like!
Karla Novak
Karla brings a wealth of experience to her role as Office Manager at Majerus & Company Physical Therapy. She has worked in varied settings, always with a focus on customer service, honing a now longstanding forte. Karla advanced to Front Office Supervisor at Rebound Rehabilitation during a time period that was marked by significant growth and change in our community; the clinic enjoyed notable and measurable customer service excellence. Although the provision of health care has become increasingly complicated, she navigates the challenges of insurance companies, clinic staffing, data management, and patient satisfaction with poise and efficiency. As one of the original trio that comprised Majerus & Company Physical Therapy, she has taken on a myriad of new tasks that have contributed to our growth. A Nebraska native, she and her husband have enjoyed raising their three children in the Pacific Northwest; her spare time is spent long distance cycling, gardening, kayaking, and being a grandma.
Bliss Gurney
Hailing from the beaches of Carmel, CA by way of TX, MO, and most recently Bellingham, Bliss joined our Administrative team in 2019. She graces the clinic with not only her capable and sensitive approach, but with a dedication to quality improvement to boot. The experience Bliss brings to our front desk ranges from the pharmacy and psychiatric realms to the reception and medical billing sides of health care. Having just moved to Clark County in 2018, she and her husband have kept busy sampling the food scene; they also bring Sophie and Bella, their talented black Labs, on hikes and park exploration. Bliss enjoys putting the girls through their paces in obedience and K9 scent work, but has been known to spend a whole weekend binge watching Netflix as well. Strike up a conversation about Star Trek with Bliss and you'll certainly Live Long and Prosper!
™/® Trademark or registered trademark of Merrithew Corporation, used under license.