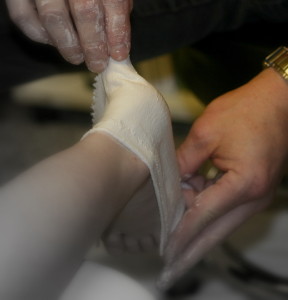 Feet are important.
From the 26 bones that keep us grounded to the 107 ligaments that allow us to stay on our toes to the 19 muscles that put our best foot forward, these complicated structures can make or break a person's day. Our feet reflect much about general health and sometimes show the first signs of many chronic diseases like Diabetes, Chronic Venous Insufficiency, Kidney and Liver Disease, and Auto-Immune disorders. Problems in this area ought not be overlooked.
It can take time to pin down the cause of foot and ankle pain, or whether that pain could be causing problems further up the chain, into the knees, hips, or back. That's why we perform a detailed 60 minute evaluation that looks at alignment of the bones of the foot and ankle complex, muscle and joint flexibility and stability, strength, and balance. This concentrated biomechanical exam affords the comprehensive information that a therapist needs to first look globally at lower quarter function and then narrow down an accurate physical therapy diagnosis.
Sometimes treatment incorporates fairly straightforward strengthening and stretching; other times more complicated proprioception, balance, and gait modification activities. Often, orthotics or changes in footwear are indicated. We have long-standing relationships with companies that provide excellent customer service like PAL, Biomechanical Services, NW Podiatrics, Dr. Comfort, BSN-Jobst and Juzo. By looking at foot alignment in non-weight bearing as well as in standing, your therapist can make the recommendation with the best fit for you and for your lifestyle.
What kinds of foot problems do we treat?
Running/walking complaints
Acute and recurrent ankle instability
Plantar fascitiis
Tendinitis and tendinosis
Post operative care:

fractures
tendon repairs
fusions

Foot trauma due to accidents
Shin splints
Patellar pain and alignment
Persistent chronic knee pain
Toe, ankle, or arch pain
Bunions
Foot ulcers and swelling
Treatment techniques may include:
Phonophoresis or iontophoresis, non-invasive delivery of anti-inflammatory medications
Stretching techniques
Strengthening exercises for the foot/ankle, hip and/or core
Joint mobilization
Taping techniques for the foot, ankle, or patella
Balance exercises
Gait analysis on the treadmill
Footwear analysis and recommendations
Exercise recommendations to supplement your program at home or the health club
Ankle or knee supports
Off the shelf orthotics
Custom fabricated orthotics
Compression garments